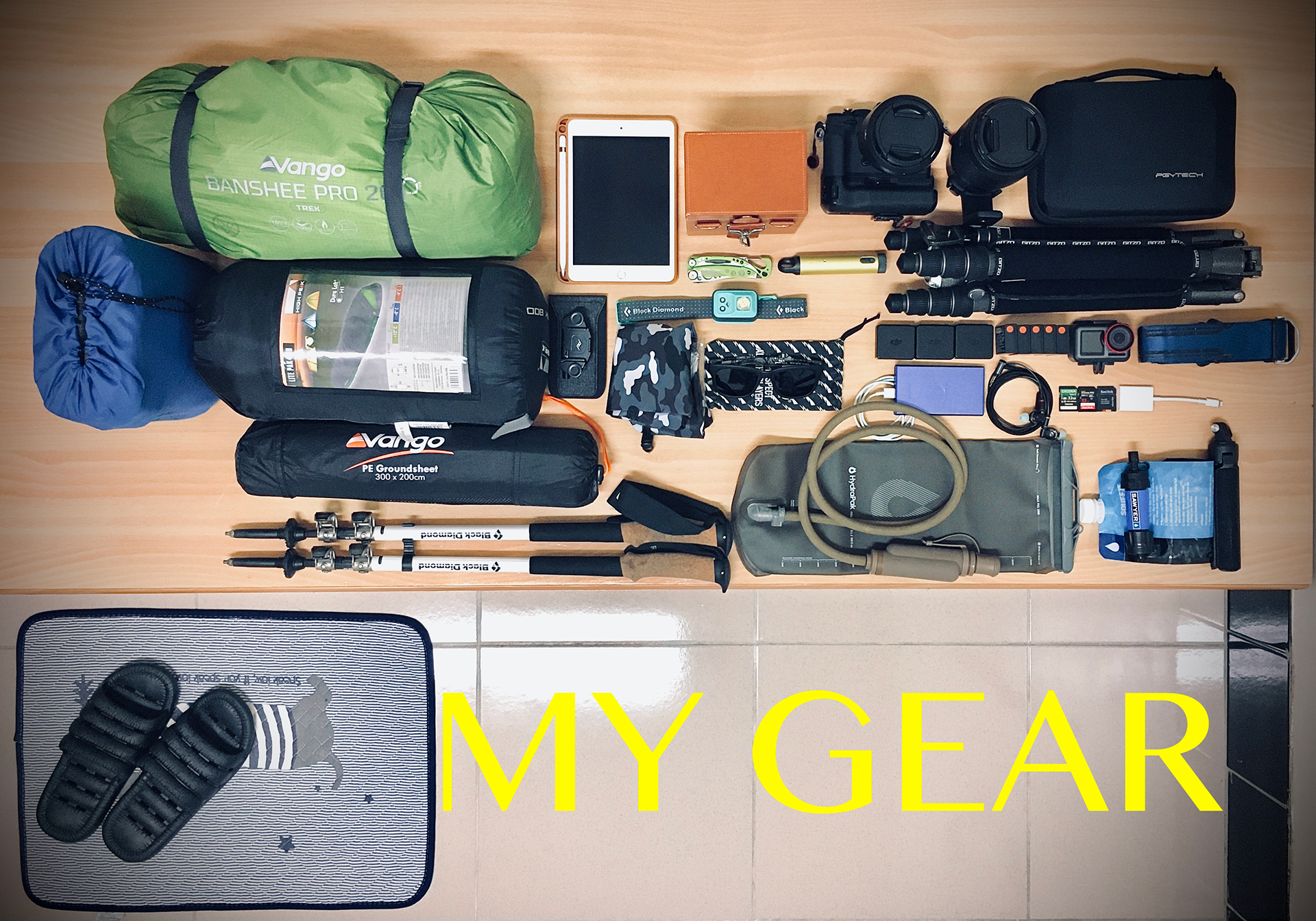 Fujifilm X-T2
- It is my second camera at Fujifilm brand. It is very intuitive to control and set setting like ISO, shutter speeds and focus point. Also, its reliability is good. It was fallen down accidentally on Hehuan hiking trip. After the trip, I sent it to Fujifilm which checked my camera, and they said: All of the things are fine :)
Fujifilm EF-X500
- It is my first professional flash, and I always use it when taking portrait photos. Easily use, and it provides FP flash mode, so I do not worry about shutter speed.
XF 8-16mm F2.8 R LM WR
- Incredible vision for taking starry sky! High quality and waterproof. I think waterproof is very important for hiking and adventure. Usually, I take sunset or sunrise photos when I am camping. For sunset and sunrise time, the weather is wet and cold on the mountain. So, waterproof and durable photography gear is essential to handle this condition.
XF35mmF2 R WR
- light and handy. Image quality is nice. I usually bring X-T2 and this lens when I take a shoot in the city.
XF 50-140mmF2.8 R LM OIS WR
- A perfect lens for portrait, event even landscape. Very high optical quality and provides waterproof and O.I.S., so I can take a pretty sharp photo although in low light and rain conditions.
XF2X TC WR
- It has great image quality when used with XF 50-140. I usually use it with a tripod because it will reduce the amount of light(F2.8 -> F5.6), so I need to slow down the shutter speed.
Canon P
- It released in 1959. I sometimes bring it and take photos which the topic is about portrait and street snap. But it's a bit heavy...
Canon 50mmF1.4 LTM (L39)
- It produces around 1957(so old!), and I buy from eBay. The lens surface and optical glass condition kept very well. It is not expensive, and the photos have some unique bokeh take by it. I always use it combine with rangefinder camera - Canon P.
DJI OSMO Action
- It is good for recording the trip and adventure. But, if I open the RockSteady stabilisation at recording, the screen display will delay. Because RockSteady is a gimbal-like algorithm, and the cost of operation for the algorithm is very high. Although the new firmware improves the lag when recording, the lag phenomenon also appears at 1080p/60fps and above. Hopefully, this situation will also improve in the next firmware update.
NiSi V5 Pro Advanced Filter Kit
- This includes holder and six filters - polariser filter, soft-edge ND 0.9, hard-edge reverse-graduated ND 0.9, ND 0.9, ND 1.8 and ND 3.0. Those filters are suitable for most scenes such as sunrise or waterfall. I always bring it when I am hiking and take landscape photos.
Peak Design Capture Slide v2
- This is suitable for hiking guy. Very comfortable and I can easily get my camera. But it will be a perfect product if the slider buckle can fix the length.
Peak Design Capture Clip v4 & Pro Pad
- This is also suitable for hiking guy! I can fix my camera on my hiking bag by the clip, and the clip holds the camera that stable and reliable. So I get my camera from my backpack belt quickly.
Gitzo GK2545T-82QD Traveler Tripod Kit
- About 1.84kg and can hold up to 12kg of gear. So far, so good. Although this is a carbon fiber tripod that is stable and reliable, I think it's a bit heavy for me to hiking.
Manfrotto Befree Advanced Carbon Fiber Travel Tripod with 494 Ball Head
- About 1.27kg and
can hold up to 8kg of gear. It is super light and small for storage. The tripod is not stable when the wind on the top of the mountain becomes unusually strong, but I think this sacrifice is worthwhile when the equipment needs to be lightened on certain journeys.
Dell P2418D
- I use this monitor in conjunction with my MacBook Pro. I can clearly watch the detail of the images because it provides a big screen and a wide range of colour.
LaCie Rugged Thunderbolt USB 3.0 / 
LaCie 4TB Rugged RAID Pro Mobile USB Type-C RAID Drive
- This device keeps my raw data and post-processing photos. Waterproof and resistance to drop.
Adobe Lightroom Classic
- Always using it to process and manage images.
Affinity Photo
- An excellent software which UI is user-friendly. I can easily edit images and access function. Also, It runs very fast and smooth even though I load or edit high-quality images, not like Photoshop.
Affinity Designer/Publisher
- Designs the postcard and other.
F-Stop SHINN backpack - 
80L. Huge monster. It has a lot of compartments, and it can hold everything! It holds not only my camera gear but also trekking and camping gear. But, the handle webbing design too thin. Although the official introduces SHINN strap uses "oxford-weave" tearproof nylon, the strap breaks at the waist and sternum position after using it twice. I can't believe this backpack value at $438USD. Fortunately, f-stop contacted me and changed the new backpack to me. So, I will continue to use and hope that getting a good experience in the next hiking or adventure trip.